Los 33 – one year on
Posted By Peppermint Soda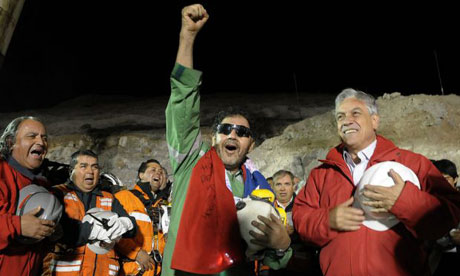 I couldn't quite believe it when I heard on the radio this morning that it was one year ago today when the Chilean miners – or 'Los 33' as they were soon to be known – became trapped underground in a San Jose copper mine.
It was one of those rare news stories that captured the attention of the world and made us all smile – and no doubt shed a few tears – when the rescue was completed.
Following the rescue, the miners became global stars. There was talk of a film being made about what had happened and they were also cheered to the rafters by 75,000 football fans at Wembley Stadium. After all the adversity they'd faced, the future seemed to hold a lot of promise for Los 33.
Unfortunately, the stories in today's papers don't paint quite such a pretty picture. There's a lot of talk about how many of them are suffering psychological trauma as a result of their ordeal and they're also now struggling to find a steady form of income. This has led Dr Jean Romagnoli, a medic who took part in the rescue operation, to say that the miners have been "abandoned".
I sincerely hope that this isn't the case – and I'm sure I'm not alone in feeling that sentiment. The story of Los 33 struck a chord with all of us as it showed the very best qualities of the human spirit. To have it tainted with revelations that the miners have somehow now been forgotten would leave a very bitter taste.
Perhaps these 'one year on' stories will prompt a concerted campaign to make sure the miners now get the support they need. Although no doubt well-intended, having movies made about them and being invited to exotic locations across the globe probably isn't going to help them that much. I don't think it's an exaggeration to say that everyone hopes this very 'good' news story hasn't turned sour.
Share it: